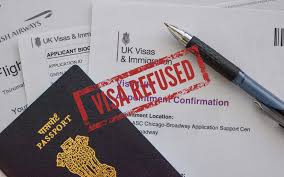 UK embassy tops the list of embassies with highly scrutinized visa process all over the world.
The UK home office receives millions of visa applications yearly.However only a fraction of those applications are accepted while the rest of those applications turns out to be rejected.
Its the duty of the applicant to ensure his/her UK visa application comes out well.
How does he achieve that?
By ensuring he meets up the requirements of the type of UK visa he chooses to apply for.
It is noteworthy to state expressly that if your UK visa application is rejected,that particular data is stored in the database of the UK home office, anytime you apply again,your refusal at your first attempt pops up and blocks your chances of getting a UK visa at that time or later in future.
However, i always advice people to do all it takes to get approved in the first trial.
Your application can be denied due to the following reasons
1 . The way you address the embassy : You must know that a consulate is different from an embassy. An embassy is a larger representation of a mission,while a consulate is a smaller version of the embassy.Its more of an office.There are no ambassadors there.You must identify the difference between a deputy high commissioner,ambassador,consular.You shouldn't address a consular the way you would address a deputy high commissioner.That might turn him off your application.Picture a man addressing a king like a chief or a senator like a local government chairman.
2 .Fake documents: UK ranks a top list of embassies that scrutinize documents.It would interest you to know that UK embassy has done a chunk of work researching into your life before you even submit your documents.Once they discover fake documents in your application,it raises an instant red flag,you not only get rejected but you would also get a 10 year ban.
3 .In proper arrangement of documents: There is a guide to arrangement of documents when applying for a UK visa,you can see a travel advisor or consultant for this,you could try out flyafricans.com for this service.
4 . Insufficient funds for the trip: When applying for a UK visa,you must ensure all the funds needed for that trip is available in your bank account from flight ticket to hotel(if you are not staying with a family member) shopping,miscellaneous,some money left in your bank account when you return to your home country,some money left for your family upkeeping(depending on your number of dependents) rents etc.
5 . Bad accounts: The fact that your account is well funded in millions doesn't make that bank statement a good account. A typical example of a bad account is this, picture your bank statement having a opening balance of NGN32,000 while your closing balance be NGN2,590,000. NO! you wont get the visa! See a travel advisor for analysis of your bank statement.
6 .Correlation of bank statements,savings,work documents: Like i said the UK home office is a fact hunting mission,however if your bank statement has it that you earn NGN850000 monthly and your letter of employment,payslips confirms your NGN850000 monthly salary but your savings account shows that you have no monthly savings,you will be denied that visa even with the fact your account is well funded with a closing balance of NGN3,200,000.When applying for a UK visa you need to think like the deputy high commissioners. White people plan their trips yearly,they don't just embark on a vacation,so they expect everyone to be like them,they expect you to save for your vacation.Definitely,your NGN3,200,200 closing balance is illegal funds to them,its questionable to them,they are wondering if the money exist truly or where did you get it from all of a sudden.
7 . Improper advice and non compliance to visa regulation: When you take advice from a source that knows little or nothing about visa processes and procedure,you have already failed in your visa application process.Always speak with your consultant.You don't know it all.Give what belongs to ceaser to ceaser.
8 . Failure to disclose convictions: UK deputy high commissioners are a doubting Thomas! You must be able to prove to them beyond any doubt. See your consultant on visa processing advice.
9 . Applying for the wrong visa: This is very common among st Nigerians,they don't know the right class of visa to apply for. You need to identify the right class of visa for you specifically and also ensure you can meet the requirements of that visa. Its best you do this with your consultant .
10 . Insufficient time to plan: This is the major reason for most refusals.Applicants don't take out time to plan out their application and go over their documents again and again.You must have ample time to plan your visa process from A to Z.