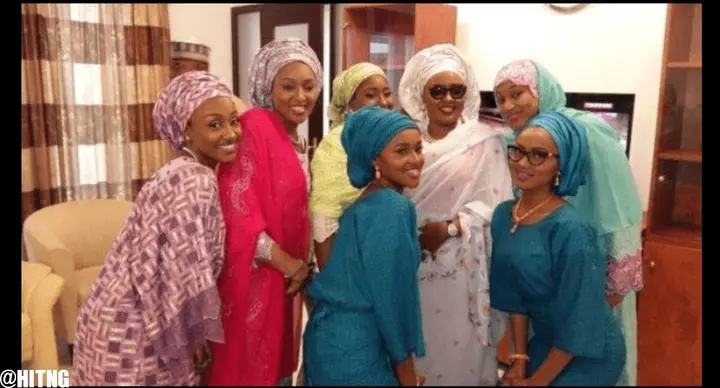 In December, 1989, then Ex-Head of State General Muhammadu Buhari (rtd.) married Aisha Halilu. It has been exactly 30 years now since Buhari married his wife, the Nigeria's First Lady.
We take a brief look at the 5 children from this marriage; four girls and a boy. It is worthy to mention that, Buhari's late first wife, bore the same set of four girls and a boy, two of which are late.
The kids:
1. Halima
Halima is the eldest of Aisha Buhari's 5 children. She was born in October 1990. Halima attended schools in Kaduna, Togo, UK & Lagos, among; Kaduna Intl School, Bellerby's College, Brighton and the University of Leicester in the UK where she studied law. She was called to bar in 2016.
Halima is married to Alhaji Babagana Mohammed Sheriff, a relative of Sen. Ali Modu Sheriff. They have now been married for about 7 years. Her first daughter was named Aisha (called Ayush).
2. Yusuf
Yusuf Buhari is the second child and only son of the first lady. It is reported that Yusuf was born in April 1992. He also studied in Lomé, and at the University of Surrey in the UK, alongside his siblings. He completed his mandatory service, NYSC after bagging his Master Degree abroad.
Yusuf was involved in a fatal bike accident in December 2017 where he sustained a head injury. He is now the only surviving male child of the President as Musa Buhari died several years ago.
3. Fatima
Zahra Buhari is the most famous among President Buhari's daughter. Zahra was born in December 1994. She studied Microbiology in the UK and runs a Non-Governmental organization, the ACE.
She got married hours to her 22 nd birthday to another prominent Kanuri, like her elder Sister, Ahmed Mohammed Indimi. Ahmed Indimi is the son of oil magnate & billionaire, Mohammed Indimi.
4. Aisha
Aisha Buhari Jr. is the 4 th child and 3 rd daughter of the First Lady. Better known as Hannan, Aisha was born in 1998. Photography is her hobby and passion, she's over 60k followers on Instagram.
5. Amina
The last born of the first family was born in September 2004. Little is known about the 15 year old Noor.