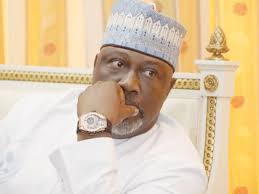 It is no longer news that Dino Melaye lost his seat in the senate to Smart Adeyemi. While I was reflecting on the political turn of events, I could not help ponder if this is not nemesis at work. Date back to 2014, Dino, like Bukola Saraki and several others turned against Goodluck Jonathan and made his regime a living hell. They decamped to the opposition APC and hobnobbed with the new "change" mantra. In the list of dramatis personnae is Atiku Abubakar himself and the gang all had one thing in common – Jonathan must be stopped. No ridicule was spared and no verbs was considered too great to run Jonathan's government down. The gang were celebrated heroes by the APC government as "progressives". Jonathan lost so much goodwill and consequently the election. Dino Melaye and his team clicked glasses and basked in the euphoria of their new found political tuft. They thought they could call the shorts and dictate things. Like the proverbial new chicken in a new household, they were not willing to learn the ropes by standing first on one leg until they are well accepted. They were all out to take the spoil of victory and they started with a short at the senate presidency. They received the body language of no welcome but no. Therein began the journey to political obscurity.
Look back in retrospect, everyone of them from Atiku, Saraki, Dino, 16 defecting senators with Saraki and several others are today in their political purgatory. They tried all the tricks they know which they used so well against Jonathan but one thing they never realized was that PMB is a soldier and like a man trained in the act of war, collateral damages can be strategic to winning a battle.
Note however that this write up is not an attempt to insult them but a call to them to really reflect. Dino publicly regretted his action against Jonathan after tasting the other end of the stick. I personally admired them as persons and so can never mock them. The lesson from their political fall is the trust of my writing and how that changing a system should always supersede fighting a man. I supported those I could support politically with votes and I canvassed in the trenches for some. But life is all about being careful with the role we play when we find ourselves in privileged positions. It's a question of if our motives are nationally attruistic or borne out of personal vendetta against an individual.
I wish Dino well but despite your political fall from Grace, I personally admire you and wish you a quick return to political relevance. You were vocal many times on behalf of the voiceless and you did that fearlessly at personal risk to your safety. If this temporary set back is to atone for your past mistake, may you find a quick part to political recovery soon.