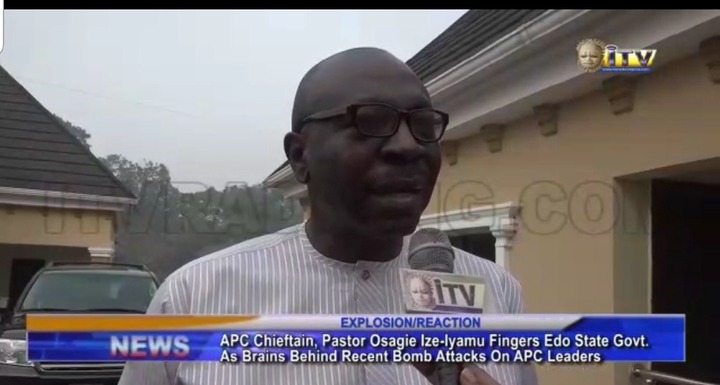 Edo state elections is sure taking a strange dimension.
Of recent the state has witnessed a series of bomb attacks targeted at the opposition,
Some days ago it was at the residence of Barrister Henry Idahagbon, not done a bomb attack occurred at the residence of Chief Inegbeniki the next day.
And just last night it was at the residence of Lawrence Okah, the state secretary of the APC.
Today Pastor Osagie Ize-Iyamu a gubernatorial candidate of the APC paid the APC secretary a visit at his residence in solidarity of the heinous act carried out.
The APC gubernatorial candidate was interviewed by ITV during his visit.
Unfortunately at a time the state is supposed to be at a sorry state because of the recent waves of attacks on well-meaning individuals of the state, the media aides of Obaseki decided to doctor the video and portray Osagie Ize-Iyamu as one who is opposed to reconciliation.
Since the doctored video was exposed Edo residents have taken to their various social media handles to condemn the media aides of the governor in displaying a high level of insensitivity towards the insecurity in the state.
During the interview pastor, Ize-Iyamu queried Obaseki over his silence and advise him to take it easy with the oppositon.
See the full video here.
It is indeed shameful that the state is playing with the sensitivity of Edo indigents.