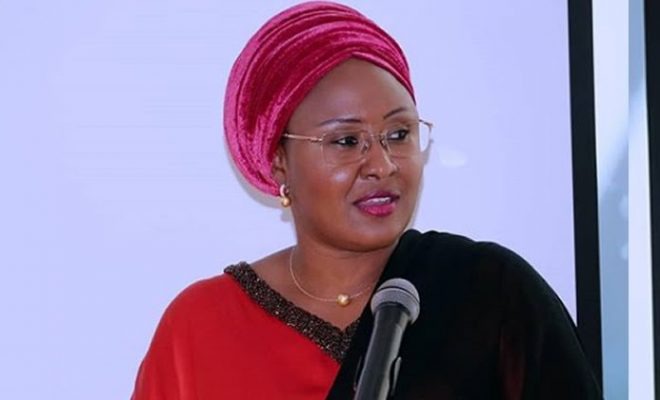 When we were kids, our parents used to preach about table manners. And the most important table manner they always taught us was- "Don't talk while you're eating." Well, it seems like the people in the present-day Nigerian government took this table manner so seriously that they now also apply it in governance.
Let me explain: Do you remember Festus Keyamo? Once upon a time, he used to be one of the most vocal critics of government policies. But, currently, he is one of Buhari's ministers. Despite being a Senior Advocate of Nigeria, Festus Keyamo has now become a puppet who defends Buhari even when he desecrates the judiciary.
The same principle of "Don't talk while eating," also applies to Femi Adeshina. Mr. Adesina was on the side of the masses when he used to be a renowned journalist. But now, he is the spokesperson of a president who has no regard for human rights and the rule of law. Femi Adeshina, just like Oshiomole, and many other hypocrites who used to be government critics, are currently eating on the table of the federal government, hence they can no longer talk.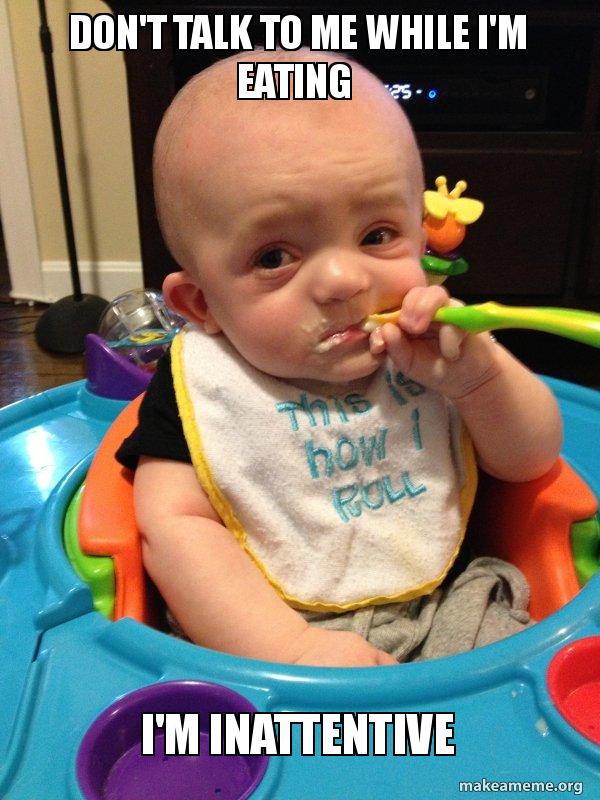 Well, among all the hypocrites running around in Aso Rock, the president's wife, Aisha Buhari leads the pack. A few months before the last election, Mrs. Buhari was very vocal on social media and the press. She condemned so many government policies and hinted that she might not support her husband during the second term campaign. But at the end of the day, she joined the campaign-train, urging Nigerians to vote for Buhari and APC, even though she had claimed that the presidency had been hijacked.
On October 7th, 2018, the president's wife also questioned the integrity of the APC primaries. She also kicked against the practice of giving incumbent candidates, her husband inclusive, automatic tickets.
On so many occasions, Mrs. Buhari presented herself as one who is on the side of the masses. She paraded herself as an ordinary Nigerian who would lead a protest against the government. However, but her hypocrisy became very glaring on November 14th, 2019, when she begged the people of Kogi State to forgive Governor Yahaya Bello, and vote him for a second term despite the fact that he hadn't paid civil servants salaries for so many months.
Recently also, Aisha Buhari shamelessly defended the social media regulation bill, which seeks to gag social media. This single action is what qualifies her as the biggest hypocrite in Aso Rock. How could she defend such a devilish bill despite the fact that she herself comes to social media to vent her frustrations, especially, when the cabal in Aso Rock starts riding over her, and maybe, reminding her that the president had on the day of his inauguration, promised Nigerians that there would be no Office of the First Lady?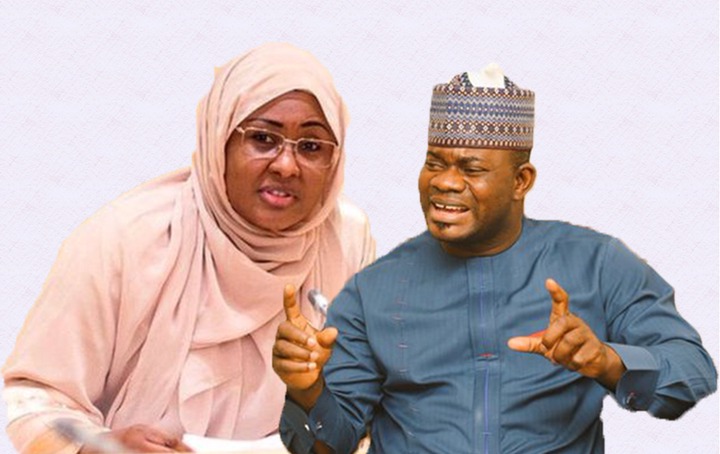 Anyway, why are we discussing this? Currently, Mrs. Buhari, is wailing that her husband's nephew, Mamman Daura is overstepping his boundaries, and giving presidential orders without the president's knowledge. She has come out to complain, on the same social media that she wants the government to gag. Nigerians have taken to social media to blast her for her hypocrisy and inconsistency. See tweets below.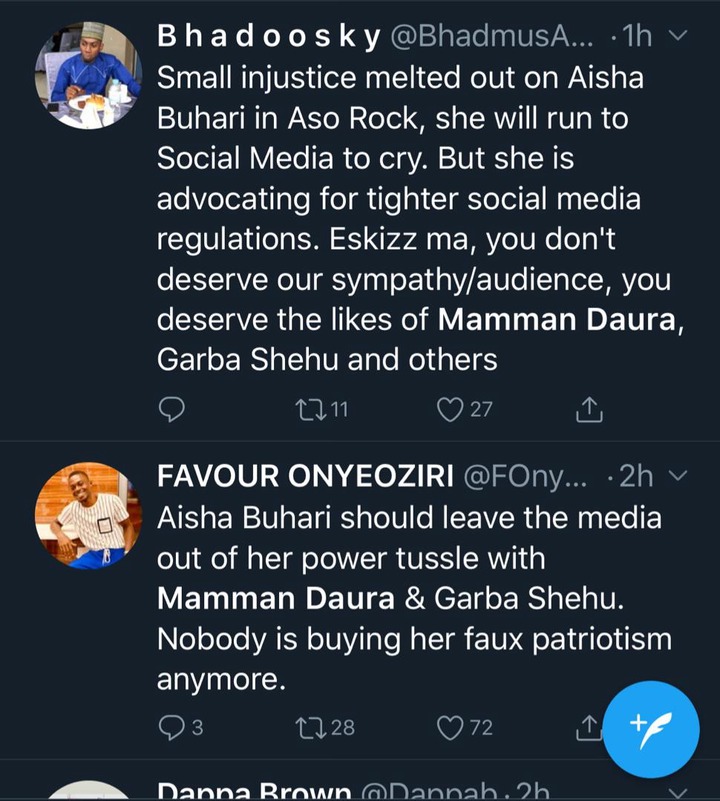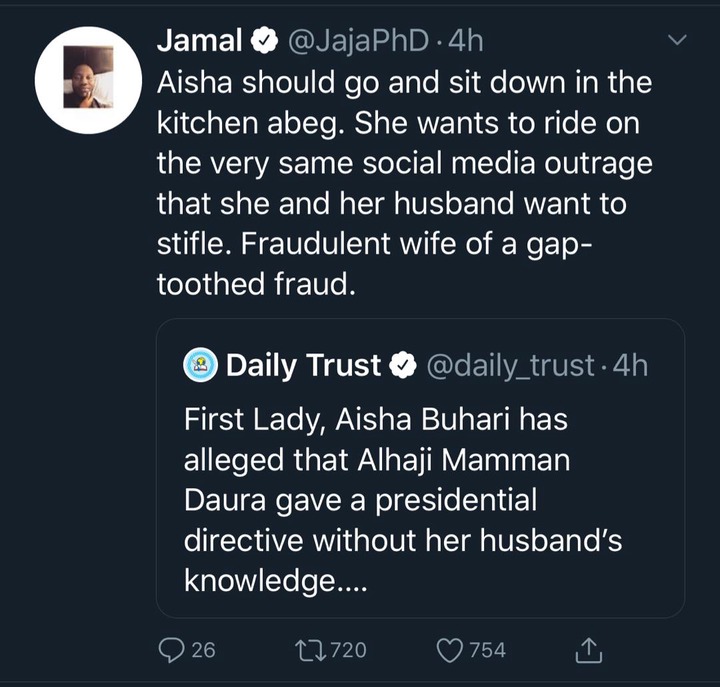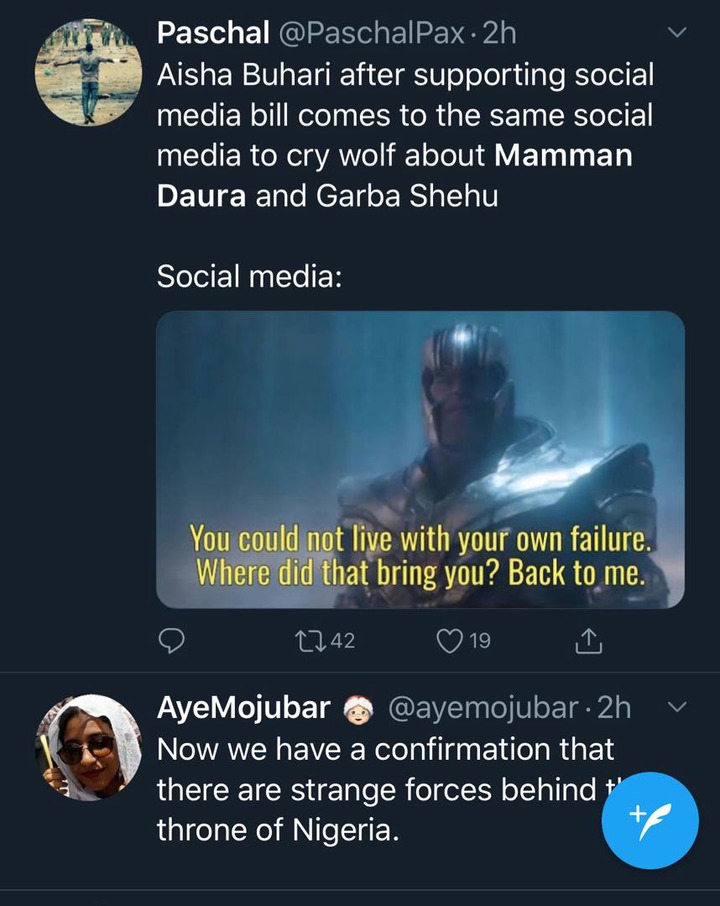 If this isn't the height of hypocrisy, then tell me what it is. Anyways, let's all grab our popcorn and watch the drama unfold.