Clergywoman, Laurie Idahosa Under Attack For Taking The Covid -19 Vaccine
Clergywoman Laurie Idahosa is under attack for taking the Covid-19 vaccine and for sharing the video clip on her Instagram account.
She shared videos of herself taking a jab of the vaccine and wrote;
"I got my first dose of the covid-19 vaccine today! Yes, you can still be a person of faith and get the Covid-19 vaccine.
#covidvaccine #vaccinationdone #vaccineisnotthemsrkofthebeast"
Some Christian followers believe that her bold step in taking the vaccine is wrong and have questioned her faith in God as a Christian.
In addition, a fan compared her to her father-in-law, late Bishop Idahosa, insisting that the bishop would never have taken the vaccine if he was alive.
However, Laurie Idahosa has taken her time to reply to the comments springing rapidly on her page.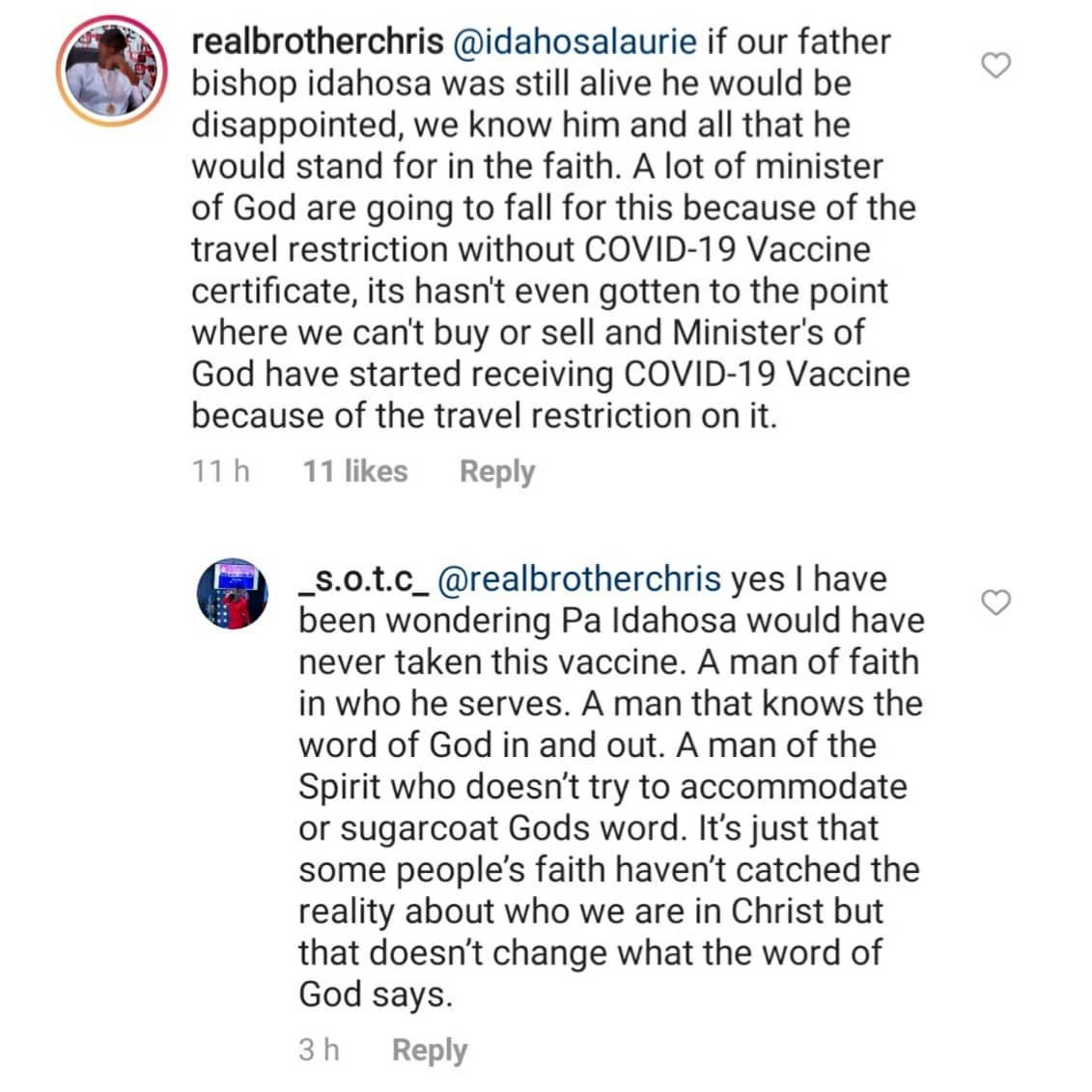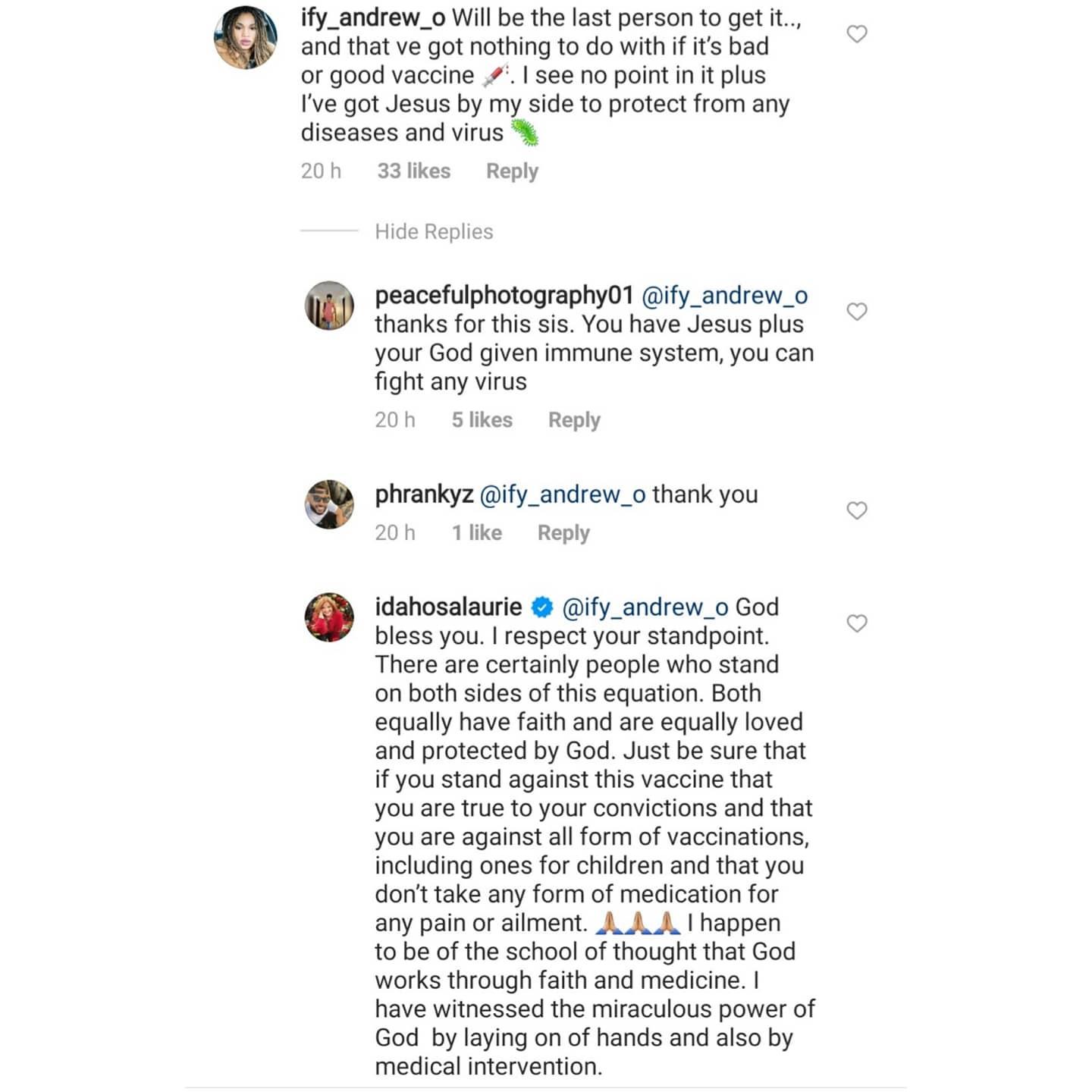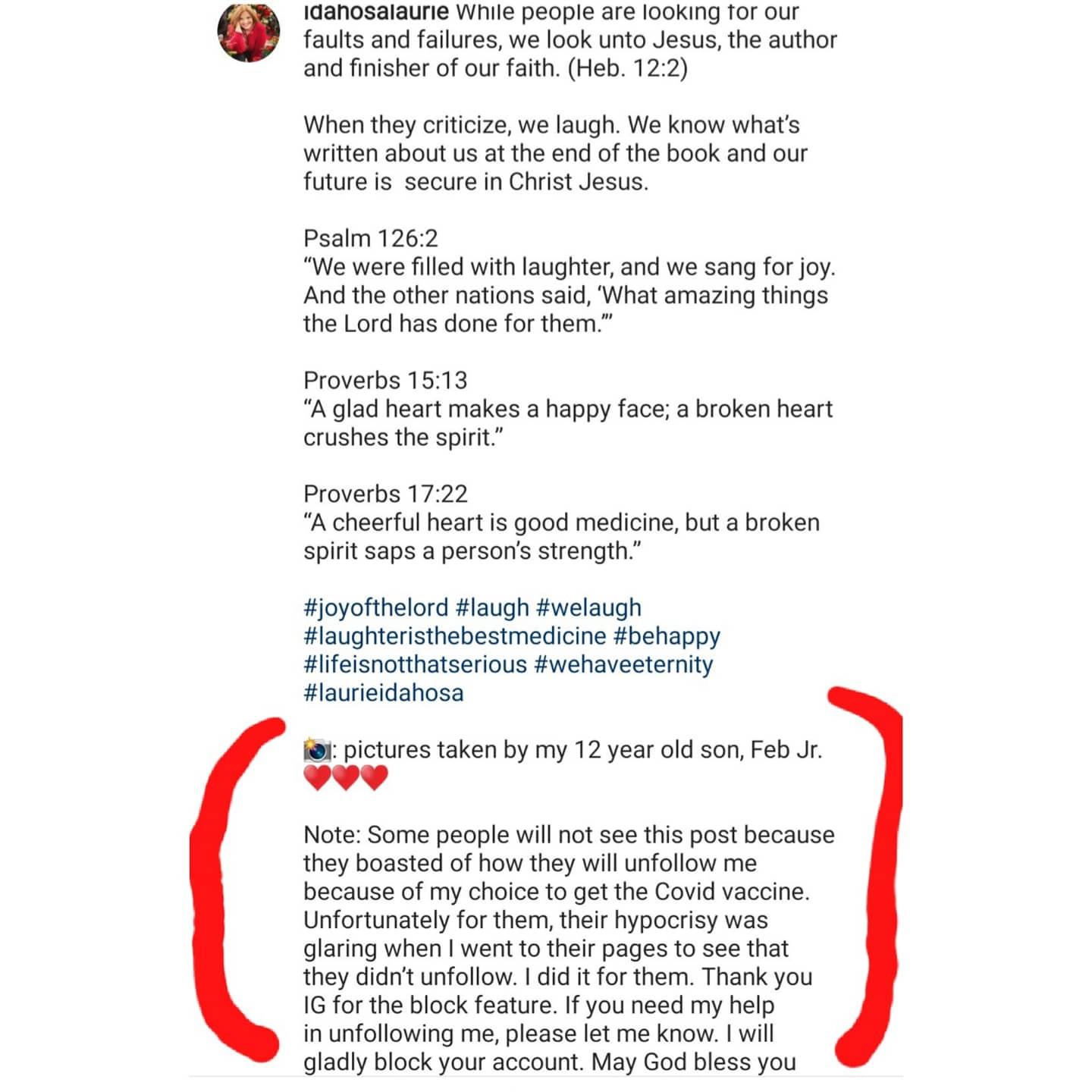 Pastor's Wife Storms And Locks His Church After Catching Him With His Girlfriend In A Secret Wedding (Video)
Drama ensue as Wife of a pastor storms and locks his church after catching him with his girlfriend in a secret wedding
A viral video which has been spotted by our outfit captures the shocking moment a Ghanaian woman married to a pastor exposed him for having an affair with another woman.
The pastor's wife who looked very vexed voiced out saying she married her husband when he had nothing to his name.
The man of God who heads Power of Light Anointing Ministry International has since been identified as Apostle Patrick Owusu.
Apostle Patrick Owusu's wife has since been identified as Nana Akua and guess what, she made her husband look stupid in the eyes of some church members after she found out that her beloved husband has been cheating on her with another young woman.
Nana Akua also disclosed that she used her savings which was intended for building her house to marry the man of God.
Watch the video below;
Fresh Prophecies On Aso Rock, Attack On Govt Houses, APC, IPOB From Primate Ayodele
Primate Elijah Ayodele, the chief of the INRI Evangelical spiritual church, has made some shocking disclosures regarding Nigeria's security situation.
He revealed that God revealed to him that there are powers at work in Nigeria, and that the insecurity is caused by issues in the Presidential Villa.
He explained that the problems at the villa are turning into insecurity and economic crisis, saying there are a number of people ruling Nigeria.
He further exposed that there are so many things hidden about the Presidential villa which will be exposed soon and that APC will have challenges before 2023.
''I see forces behind Insecurity in Nigeria, there is a problem in the villa, it is the one extending to our economy and security.
Hidden things in Villa will soon be exposed, there are a number of people ruling Nigeria, not the President, and they are fighting.
"Soon, many things will unfold. Before 2023, this will affect the APC, I foresee a serious tussle between APC and APC government''
The prophet also added that he foresees an attack in some states soon which will bring about serious casualties. He warned the governors of the states to be vigilant and fortify the security of their states to avert it.
He also warned against attacks in some government houses as he foresees attack in some of the states.
''In Zamfara, Yobe, Adamawa, Borno, Jigawa, Abuja, Imo, Anambra, Ebonyi, Taraba, and Abia, I see unexpected attacks that will record serious casualties, the governors should wake up to face this squarely.
They must also ensure they guide their government houses very well against attacks.
"Let the army watch their armoury, Air force should also be watchful in the attack against Bandits to avoid more air accidents''
He advised the Eastern governors to take the Indigenous People of Biafra (IPOB), and Eastern Security Networks seriously.
The prophet gave a warning to the acting national chairman of the All Progressive Congress, Mai Mala Buni who is also the governor of Yobe State against his political steps.
'The current APC National acting chairman will be attacked by some governors that don't want his policies and plans, his next political step will be frustrated, Let him commit his ways in the hands of God, I see a serious gang-up against him''
'It Is Foolishness To Have Faith When God Has Provided COVID-19 Vaccine' – Pastor Ighodalo
Senior Pastor of Trinity Church, Ituah Ighodalo, has warned pastors kicking against the COVID-19 vaccines.
Ighodalo, speaking on Arise TV, urged pastors to encourage their congregation to invest their time in getting scientifically proven information from professionals on the COVID-19 vaccine rather than spread conspiracy theories and unverified information.
According to him, the argument for and against COVID-19 vaccine is a problem of knowledge.
Citing biblical references, Ighodalo said some of the pastors, who are discouraging their members from getting the vaccines, are wrongly basing their actions on faith rather than proper understanding of when to apply wisdom and when to apply prayers.
According to him, "it is foolishness to keep having faith that God will protect you from an infection he has made provision for vaccines that can provide a high percentage of protection."
The cleric said: "I have taken the jab. I prayed about it, and I got a clear direction from God to go and receive it, and I have explained to my people in church that God provides knowledge. I will like to appeal to my brother pastors to do their research, get the knowledge and stop misinforming and improperly educating people on guess work, instincts and mere suppositions. Coronavirus is real, and you need the vaccination.
"The Bible says my people are destroyed for lack of knowledge."
He called on the government to compel the church and also the leaders to get qualified knowledge and answer important questions on COVID-19 vaccine.
"Some people think the COVID-19 vaccine is a deliberate effort to wipe out the human population.
"We need to address the fears and prove it is not so. Other persons think it is the sign of the anti-christ (666) and we need to prove this is not also true.
"Other people believe the vaccines have long term effect and if you take it today, in 20 years' time, it would affect them. We also need to address such fears and prove scientifically this is not so," he said.
He stressed that most theories, fears and questions posed about COVID-19 needs to be properly addressed by the government.
"The problem is a lot of these questions about the vaccine are not being properly addressed and there is too much rumour flying all over the place. Some churches believe in divine health but if they study further, they would also know that God provided knowledge for healing," Ighodalo added.
His comment is coming at a time when the likes of of Chris Oyakhilome of Christ Embassy, Apostle Johnson Suleman and many other religious leaders have kicked against receiving COVID-19 vaccine.