Man Narrates How His Girlfriend Switches With Her Twin To Sleep With Him
A man has narrated how he dated a woman with a twin, and how she usually switches places with her twin to sleep with him.
He revealed this during a discussion that prompted twins to reveal the best switches they ever pulled.
He wrote;
"I once dated a woman with a twin. I don't know why but they got in their mind that they will switch places so I will end up having s*x unknowingly with her twin.
So one night, I'm already in bed and she turns out the light to make it harder for me to realize their trick and makes up some last-second excuse to leave the room. A minute or two later I hear (what I assumed was her) coming back into the room and climbing in bed beside me.
So I slide down over and we start making out. We ended up having some mind-blowing s**. It was incredible. I've never gotten such passion from my girlfriend.
At some point in the night, they'd switch back so when I woke up my girlfriend smiled at me and asked me if I enjoyed it, I explained to her I'd been onto them the whole time.and that I knew it wasn't her from the very start. She looked at me very shocked and asked how I'd known. I said "your hands are smaller than his".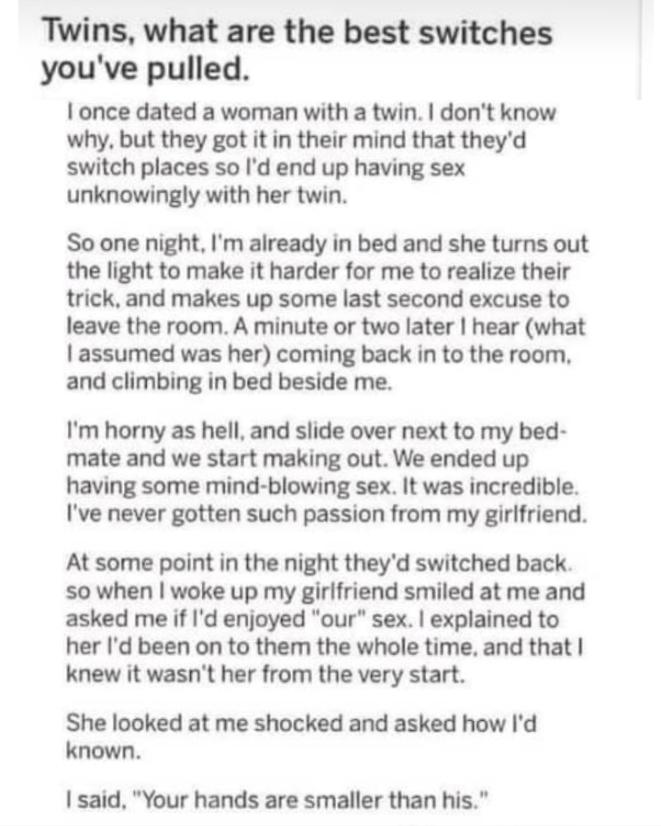 Uti Nwachukwu Questions Essence Of Marriage In The 21st Century
Big Brother Africa winner, Uti Nwachukwu has opined that monogamous relationships can no longer work in this generation.
Nwachukwu in a Twitter post spoke against the concept of marriage in this day and age.
In a lengthy thread, Uti stated that marriage is no longer ideal as falling in love with one person doesn't make any sense to him.
The media personality went further to reveal that people need to understand that it is almost impossible to stay faithful to one's partner forever.
Taking to Twitter on Wednesday afternoon, Uti wrote;
"We are so obsessed with relationships yet we have refused to accept the inconvenient truths about em.
If acute (not chronic) cheating is the reason you leave your relationship, then you have no business being in one in the first place not to talk of marrying!"
He continued;
"As long as you have a partner that is kind to u, provides for u, spends adequate time with u/does not Neglect u emotionally&physically- Then what else do u really want?
Truth is, it is EXTREMELY hard for humans to be sexually committed to ONE human for the rest of their Lives!
Let's be real and think about it.
So You are expected to be physically intimate with one person for the rest of your life? (Even if you marry in your 20s?) Lol.
"ANALOGY – Starch and Banga is super tasty and ur favourite but there are days you wake up craving king prawns with special fried rice.
FYI,if banga is forcd down ur throat, u might end up resenting banga for a LONG TIME.
I feel the needless pressure of monogamy has/is still destroying relationships. NOT TO SAY IT DOESNT WORK O! But most LONG TERM monogamous relationshps are pretentious,hypocritical and sad. YET they are the ones quick to judge and pressure others living freely.
This is a real non judgemental conversation EVERYONE should have with themselves and their intending partners so u don't lead anyone into depression via deceit.
KNOW URSELF NO BE CUSS. WHO DE CRY DE SEE ROAD.
Whether u are Female or Male, Ur Preferences are Ur Preferences (as long as its not an addiction) Let's not talk about Solomon's Wives&Concubines cos we know when we add religion,the conversation becomes closed&heated. Just do U and be real with UR expectations"
"She's Not Behaving Like A Human Being"  – Teacher's Comment On A Student's Result Sheet
The comment made by the teacher on the students result sheet has left people in shock.
The result sheet
The result sheet of a student has sparked outrage online as the class teacher left a shocking comment.
On the sheet of the female student who appears to have performed very poorly, the teacher blatantly wrote "She's not behaving like human being"

However, the Principal who chose also commented wrote; "Very poor academic performance"
The comment on the report sheet has however sparked outrage on Twitter after a Nigerian man posted the snapshot of the page on his Timeline.
See Below:
"For a student with such performance 2 A's, 2C', 2P's and 1F and the teacher deemed it fit to say she doesn't behave like human being? That teacher is a disgrace to teaching profession. Even with the teacher's comment it shows the girl is brighter than her teacher. Period
***How bad can a child behave that u describe her as not behaving like a human being? Have you forgotten that children have a lot of growing up to do? Is she running around eating other students poo-poo in the toilet after they go? Which one is she's not behaving like a human being
** I'm curious to know what she behaves like. Does she growl and bite students at random, swing from tree to tree or she stands still like a baobab tree? Does she act like a plasmodium or she just dey corner like igneous rock?
*** I believe this is a joke and not real cos no well trained teacher would try this rubbish. The so called teacher's sentence isn't even grammatically correct and he/she has the guts to say a child doesn't behave like a human being. Nansense and konkobility.
*** That means the child and the teacher are of same specie …For her to know the child doesn't behave like a human, that means she "the teacher" also have the traces."
Google Celebrates Late Nigerian Musician, Oliver De Coque
Tech giants, Google on Wednesday created a doodle to celebrate the 74th posthumous birthday of a Nigeria guitarist Oliver De Coque whose real name is Oliver Sunday.
Oliver De Coque, who hails from Anambra State was described as "one of Africa's most prolific recording artists."
Oliver De Coque was largely regarded as the "Highlife King of Africa" and one of the continent's most revered recording artiste.
He died on June 20, 2008, at the age of 66 of diabetes and hypertension, his son said in an interview.
Due to his musical prowess, he was crowned the King of Highlife for 1994 by the Alaafin of Oyo State, Oba Lamido Adedibu and awarded an honourary doctorate in music the same year.
His "Ogene" brand of highlife music blended modern highlife and traditional Igbo music, producing hits such as "Biri Ka Mbiri," "Ana Enwe", and "Nnukwu Mmawu" among others.
In 1973, he was featured in the popular Prince Nico Mbarga album "Sweet Mother."