President Vladimir Putin named Russia's sexiest man alive
President Vladimir Putin has been named Russia's sexiest man alive.
A survey of 2,000 Russian men and women found that Putin is the most good looking man in the country.
The 68-year-old was the only man to reach double figures in the poll by job board site, SuperJob. When asked who the most attractive man in the country was, 18% of men and 17% of women voted for Putin.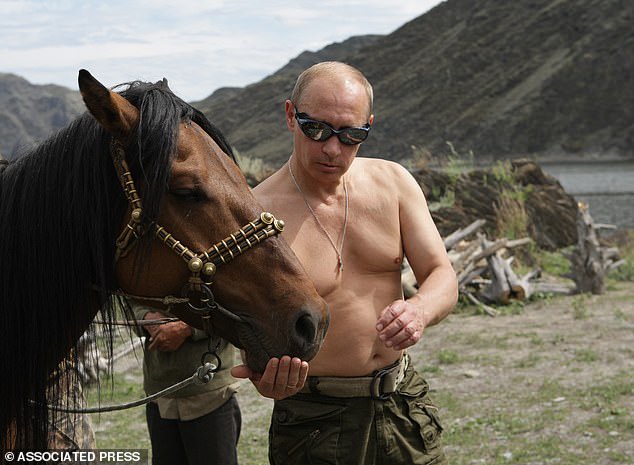 'Russians still call Vladimir Putin the most attractive of the famous men in the country,' the site said.
'In this field, neither actors, nor athletes, nor other politicians can compete with him today.'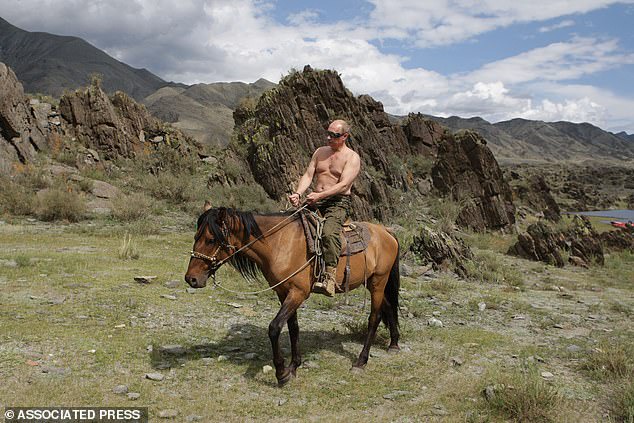 The Russian leader was named ahead of actors Dmitry Nagiyev, Danila Kozlovsky, and Konstantin Khabensky, with only 2-3% of respondents finding them the most attractive.
The results were published days after legislators passed a law allowing President Putin to stay in power as president until 2036 when he turns 83.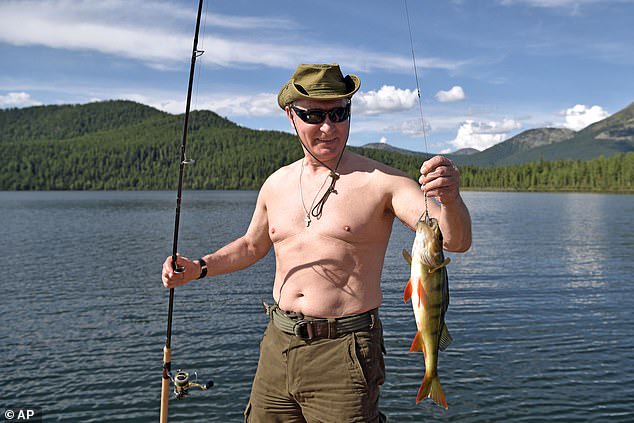 The survey was carried out by interviewing 1,000 men and 1,000 women in more than 300 cities across Russia between March 22 and March 31.
Putin has been pictured shirtless, sometimes fishing, or riding on horseback while on holiday in the past.
In 2018, he said was not embarrassed about the shirtless photos because he saw 'no need to hide behind the bushes' while on vacation.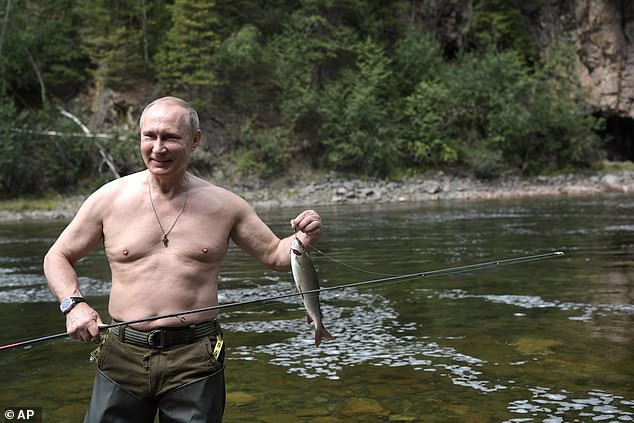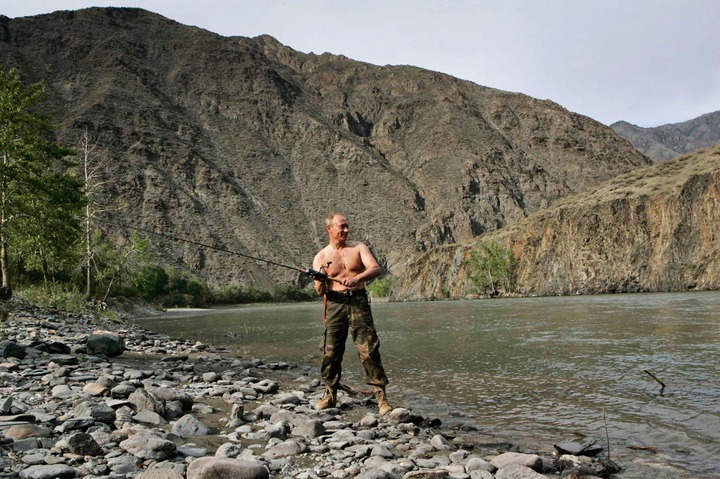 2023: 6 Nigerian Female Politicians to Look Out For
The Nigerian political environment is not friendly to female politicians as patriarchy reigns supreme in the polity. This has affected the number of women folk in active politics in the country, but some are bracing the odds and proving that they are capable of even surpassing the unsatisfactory performances recorded by their male counterparts.
Legit.ng has compiled the names of 6 female politicians distinguishing themselves in politics and paving the way for greater responsibilities as the 2023 general elections draw near.
1. Senator Abidoun Olujimi The 62-years old former deputy governor of Ekiti is an example of an irrepressible politician who has seen it all and continues to break new grounds in her distinguished political career. Olujimi had made a name for herself as a broadcaster and journalist before venturing into the murky waters of politics. Currently representing Ekiti South Senatorial District in the National Assembly, she is expected to contest for the governorship election of the state in 2022.
2. Senator Aishatu Dahiru Ahmed Popularly called Binani, the senator representing Adamawa Central Senatorial District in the National Assembly came into the national political scene in 2015 and she is already a force to reckon with. Even before her foray into politics, Binani had made a name for herself in the highly competitive Nigerian business environment.
3. Natasha Akpoti 41-years old Akpoti ran for the post of Kogi Central Senatorial District seat under the Social Democratic Party and contested in the Kogi state governorship election under the same party all in 2019. She lost both contests in controversial circumstances, but more importantly, cemented her place in Nigeria's politics as a fearless and solid politician with an unrivalled ability to mobilise people from the grassroots.
4. Gbemi Saraki At 55, Saraki is following the footsteps of her father Olusola and brother, Bukola who are both widely-respected political juggernauts in Nigeria. She is currently the minister of state for transportation and former senator who was elected to represent the Kwara Central Senatorial District in the year 2003. She is expected to flex her political muscles in 2023.
5. Senator Uche Ekwunife At just 50-years old, Senator Ekwunife has come of age in politics and keeps breaking new grounds in what has been a distinguished political career so far from the House of Representatives to the Nigerian Senate. Ekwunife will have the chance to prove her doubters wrong long before 2023 as she seeks the PDP ticket in the 2021 Anambra governorship poll.
6. Hadiza Bala Usman 45-years old Hadiza is a Nigerian politician currently serving as the Managing Director of the Nigerian Ports Authority. She was previously the chief of staff to the governor of Kaduna state from 2015 to 2016. Despite the current position, her constant foray into politics are well-documented as she continues to serve in several committees within the ruling All Progressives Congress. Her thriving political career is expecting to take shape in 2023
Meanwhile, a lot of stakeholders in Nigeria are becoming increasingly skeptical about the possibility of achieving a free, fair, and credible election in 2023 amidst the worsening security situation in the country. With the current trend of insecurity in the different geo-political zones of the country, there is a general apprehension that things could get worse before the next election.
Some prominent leaders of thought have also expressed fear that the people's desire for a smooth change of leadership in the 2023 general elections could be marred by violence and other forms of criminalities if left unattended to by the Buhari administration.
Source: Legit
Tinubu Is Way Too Big: Why Tinubu's Legacies Would Always Be A Pain To His Traducers
Tinubu Is Way Too Big: Why Tinubu's Legacies Would Always Be A Pain To His Traducers
"We need a leader that is a good administrator, experienced in managing resources, has a vision and can surround himself with sound minds where he lacks"-TBO
Have you ever paused to ask yourself why the 2023 presidential election is the most talked-about discussion today in our polity? The intensity in which it is discussed is quite engaging bearing in mind that the electorates have mixed feelings over the dividends of democracy since its return in 1999.
Funny enough no single individual that is worthy of note has made a categorical pronouncement on his/her 2023 presidential ambition, but yet Tinubu keeps reverberating in every nook and cranny across the country as a possible successor to Buhari.
His soaring popularity is causing a lot of sleepless nights for his traducers who feel Tinubu should not even be an option, already different plans are been orchestrated all in a bid to diminish his fast-rising popularity.
Many of these people have taken it personally and are hellbent on stopping the former Lagos State Governor from exercising his franchise which makes him eligible to vote and be voted for.
His businesses are under tenacious attacks, his integrity, his political ideology and everything associated with him is a subject of continuous bombardment by these few detractors who for one reason or the other have failed to showcase their preferred candidate for the 2023 presidential election.
Why ONLY Tinubu? There are at least three serial presidential contestants that may likely contest again in 2023, there are at least 6 serving governors that would likely feature in the presidential elections, maybe some handful of Senators as well, but Tinubu who has never contested for the seat of the presidency before remains their only headache.
Tinubu's legacies are the causes of his defamers' nightmare, now let me define three broad categories of Tinubu's haters I have personally identified.
The first is the Peoples Democratic Party, PDP. Tinubu is the major reason they are not in Aso Rock today and lost out in at least 15 states.
Then we have those who are just obsessed with Tinubu's firm relationship with Lagosians. They hide under the toga of Godfatherism to tear Tinubu apart.
Also, we have the natural-born haters that don't see anything good with someone who is more popular and acceptable than their standard. Naturally, they hate anything progressive, unfortunately for them, Tinubu is the symbol of progressives in Nigeria today.
As controversial as this statement may sound I would without fear or favour state that since 1960 to date no individual has ever groomed as many political students across the Federation like Tinubu.
Even the greats before him like Awolowo, MKO Abiola, Nnmadi Azikiwe, Odumegwu Ojukwu etc never had such students of first-class products in politics across the nation like Asiwaju, funny as it sounds we can all do the statistics for ourselves.
Awolowo had his political students only in the South-West and allies in other geopolitical zones, while Abiola was just a very charismatic politician with deep financial pockets and a large heart, he earned his popularity on the street with his human kindness and wonderful stories that were told about him.
Abiola was Africa's biggest philanthropist in his time and indeed that was a major plus for him.
Buhari who happens to be the only Northern personality in recent decades to have matched these aforementioned politicians earned his popularity due to his famed INTEGRITY.
With just about two years away from the presidential elections, Asiwaju Bola Tinubu's signature is everywhere.
Indeed his legacies are going well ahead of him, "We need a leader that is a good administrator, experienced in managing resources, has a vision and can surround himself with sound minds where he lacks"
As an administrator Tinubu's foundation and experience in managing human resource are unparalleled, his legacies left behind as Lagos State Chief executive is indelible and is what constitutes the foundation of what Lagos is today.
His vision and foresight can clearly be seen with what Lagos has turned out to become in barely 2 decades of continuous planning.
Tinubu's greatest virtue remains his ability to source good hands in assisting him in the discharge of his responsibilities. Tested and trusted Tinubu is miles ahead of other likely contestants for the 2023 presidency.
Tinubu has continued to play the kind of leadership roles expected of a statesman that intends to lead the greatest black nation on earth with over 200 million citizens.
We have our candidate to sell, let any opposition bring theirs and we will compare apples to apples.
Tinubu is way too big.
Osigwe Omo-Ikirodah writes in from Abuja.
Copyright 2021.
iReporteronline notifies users that Osigwe Omo-Ikirodah is the owner of the copyright: All Rights Reserved.
Whatsapp 07032341798
Facebook.
Tinubu Congratulates Muslims at Ramadan
Tinubu Congratulates Muslims at Ramadan
All Progressives Congress National Leader, Asiwaju Bola Ahmed Tinubu, joins Muslims in Nigeria and across the world in marking the beginning of the holy month of Ramadan.
In a special press statement on Tuesday by his Media Office and signed by Mr. Tunde Rahman, the former Lagos governor said: "I join Muslims in Nigeria and across the world in observance of this blessed month of Ramadan. For this special and holy month serves to remind us of the peace-loving and compassionate principles of our faith and encourages us to be even more faithful to these principles that we may all move closer to Allah in our daily lives.
"During this month, adult Muslims are enjoined to abstain from food and drinks and other worldly things from dawn to sunset. This spirit of sacrifice, discipline, and perseverance symbolised by denying the body of food and drinks must engender the spirit of humility, mercy and kindness in us individually and as a true community of faith. Through this self control and perseverance, we are moved to beneficial introspection, self-discovery and self-development.
""I urge our Muslim brothers and sisters to be guided by this spirit in their interactions with fellow Muslims, but equally important also in their relations with their neighbours and Nigerians of other faiths as well. We must do so not only for the holy month of Ramadan but everyday of our lives.
"Nigeria faces many present challenges but none of these challenges can defeat us so long as we remain true to the tenets of our faith by extending the hand of brotherhood and goodness to those around us. We grow in strength through unity and compassion, not through division and recrimination. Thus, the call and spirit of the holy month are much needed now.
"May we all join as brothers in pursuit of peace and harmony for all Muslims and non-Muslims alike. May Almighty Allah continue to guide us with his munificent hand and open our hearts and minds that we may have the ability to fast, worship and reap the spiritual benefits of this holy month. Ramadan Mubarak."