Nonso Nwagbo — Former President Goodluck Ebele Jonathan has taken a break off his peace tour across the world to tackle President Muhammadu Buhari's government over statements made by one of Buhari's aides concerning Nigeria's wellbeing during the past government.
Last night, he took to his Twitter handle to retweet a post made by his Media Aide, Reno Omokri aimed at giving his version of the truth concerning Nigeria's debt as at when he left office on May 29th, 2019.
The retweet came after President Muhammadu Buhari's Senior Special Assistant on Public Affair, Ajuri Ngelale, reportedly said that there was little or no infrastructural development during Jonathan's tenure.
Reno Omokri who has been a strong critic of the Buhari led administration claimed that Nigeria's foreign debt was only $10.3 billion as at when his boss left office.
Note that this figure differs from domestic debt that is far higher than this.
According to the Debt Management Office, Nigeria's foreign debt as at June 30, 2019 has risen to $27billion under President Buhari's administration.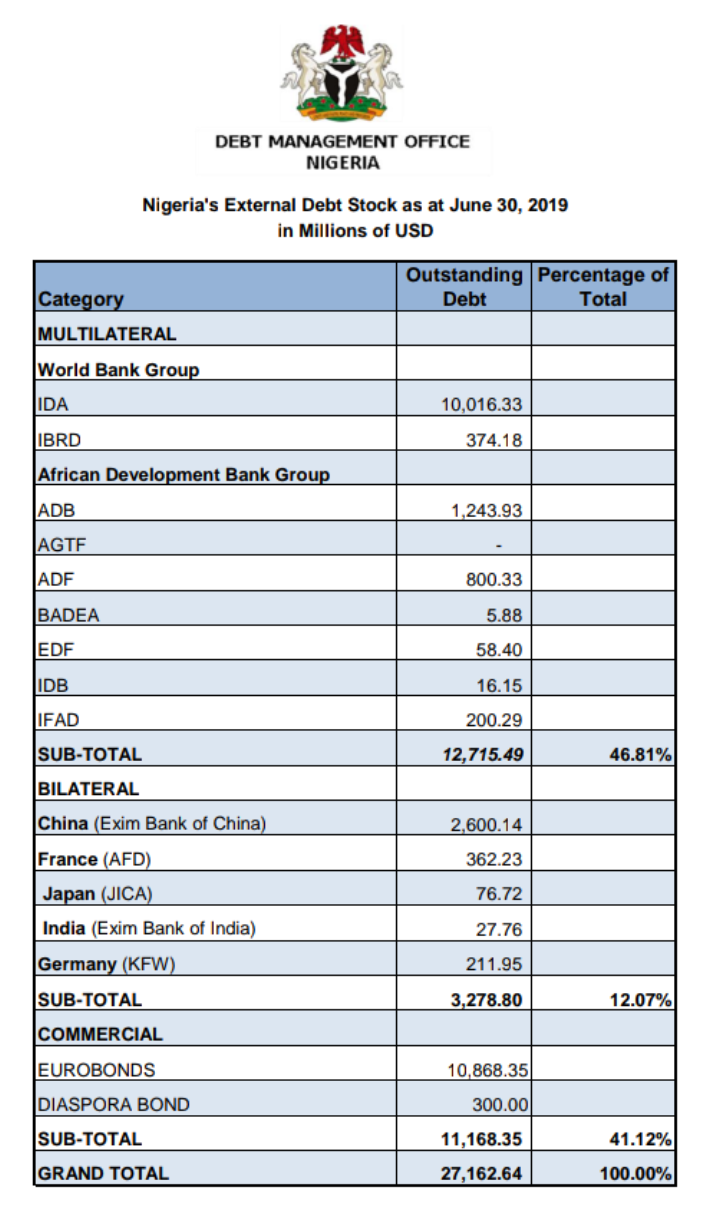 This figure is set to rise to $56billion if the senate should approve the President's latest request to borrow $29billion.
Reno Omokri, stated that Goodluck Jonathan should not be dragged into the foreign debt saga as the figures were different during GEJ's tenure.
However, President Buhari has defended the new plan to borrow $29billion stating that the goal is for finance capital projects which he has given a break down of.
If executed, the President's camps said it will improve the livelihood of Nigerians and also provide more jobs for the citizenry.
The Federal Government has gone ahead to give a break down of how every dollar will be spent to ensure there is adequate accountability.
This is Reno Omokri's full statement which Goodluck Jonathan retweeted.
"1-I took a position to move on from anything concerning the incumbent government, except where HE @GEJonathan's admin is concerned. For avoidance of doubt, Nigeria owed a foreign debt of only $10.3 billion on May 29, 2015, which included debt inherited from previous governments.
"2-The current high external indebtedness (foreign debt) of Nigeria is NOT the making of the @GEJonathan administration. Our administration was very hesitant about taking new loans and set up the Sovereign Wealth Fund to reduce borrowings during periods of volatility in oil price.
"3-Also, it is innacurate for @AjuriNgelale, described as Senior Special Assistant to General @MBuhari on Public Affairs, to state that there was little or no infrastructural development under HE GEJ. Perhaps he is not aware of the facts, so I will help him out with some projects.
"4-The single largest infrastructure in Nigeria since 1999 is the 187KM Abuja-Kaduna rail, built by the @GEJonathan govt, along with 4 power plants, 7 dams, 14 new universities, including the only fed uni in @MBuhari's home state of Katsina & 165 almajiri schools to mention a few.
"5-Ex President @GEJonathan should be allowed to maintain his focus on advancing democracy and entrepreneurial opportunities in Africa through the Goodluck Jonathan Foundation. I want to focus on evangelism. We should not be drawn into issues that don't concern our government."
Nigerians, what do you think of Goodluck Jonathan camp's statement?
Follow "NwagboNonso" for regular and updated news on Nigeria's state of affairs.