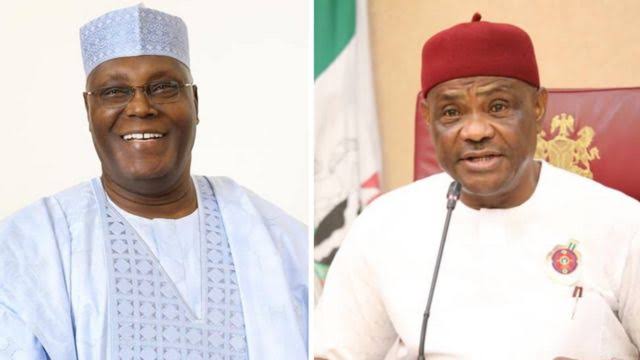 The Presidential candidate of the Peoples Democratic Party (PDP), Atiku Abubakar and the Rivers State Governor, Nyesom Wike on Thursday met in Abuja.
The former vice president and Wike are meeting for the first time since the selection of the Delta State Governor, Ifeanyi Okowa as the party's vice presidential candidate led to the crisis in the party.
Naija News had earlier reported that Atiku and Governor Wike had a closed-door meeting at the private residence of a member of the party's Board of Trustees, BoT, Professor Jerry Gana.
A source that spoke with Vanguard on the issue claimed that the duo pledged to resolve their differences within seven days.
The source said, "The long-awaited meeting between our presidential candidate, Atiku Abubakar and Governor Wike, was held at Professor Jerry Gana's residence today (Thursday). They both agreed to set up a joint consultation committee made up of an equal number of persons (from both sides) to thrash out the issues.
"This should be done between now and next week after which they are expected to brief the various organs of the party. This is the first step towards the setting up of our Presidential Campaign Council. Very soon, all these challenges will be behind us and the ruling APC will know their time in office is up for good."
Read Also: JUST IN: Buhari Emerges As Tinubu Support Organisation National Coordinator
A source who spoke from Governor Wike's camp said he would reach out to them and they would collectively decide the way forward.
The source said, "Our principal is yet to brief me but I know whatever decision he takes, he will reach out to us and we will collectively decide the way forward.
"We all agreed at our meeting that our collective political interest will be better served in the PDP. The party belongs to all of us; what transpired before and after our primary is behind us now."