Chidinma Left The Hotel With 2 Men After Murdering Usifo Ataga – Kemi Olunloyo Alleges
The fact that many Nigerians and some people around the world are interested in knowing the truth about the murder of the Chief Executive Officer (CEO) of Super Television by 21 year-old Chidinma Ojukwu is why Dr. Kemi Olunloyo, an investigative Journalist, will try bringing more revealing findings to the eyes of the public.
Recently, Dr. Kemi Olunloyo made some allegations on Chidinma Ojukwu (the murderer) which was publicized on her Instagram page. She alleged that "Chidinma left the hotel with two (2) men after murdering Usifo Ataga".
Read Also Chidinma I Will Not Let You Die; I Can Defend Her And Get Her Sentence Reduced To Less Than 10yrs Imprisonment – Lawyer
Dr. Kemi Omololu Olunloyo buttressed this by saying that on the day Chidinma Ojukwu was at the apartment hotel, two males also lodged in an adjacent room to hers. After Usifo Ataga got stabbed, Kemi Olunloyo claimed Chidinma checked out of the hotel with these two men who lodged in a room close to hers. The screenshot below shows all what Dr. Kemi Olunloyo said about her recent findings on the case.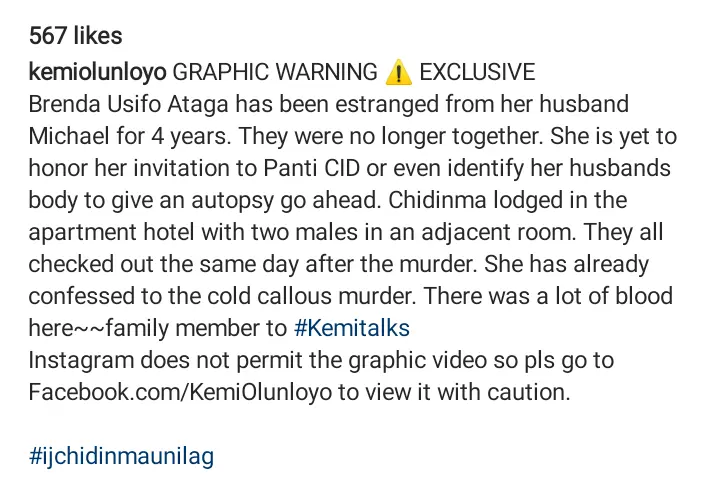 Dear Reader, Fetching good and credible news information is tedious and requires huge finance. We are soliciting support from our readers and fans. For as low as N1,000  you can be a part of our golden membership. Your support would go a long way in assisting us to continue guaranteeing quality news to our readers across the globe. Bank transfers can be made to: Zenith Bank 1014932118 Ireporteronline communications Inquiries: Email: [email protected] Whatsapp: +234 7032341798
FOR BUSSINESS ADVERT CLICK THE WHATSAPP IMAGE BELOW